FAQ
Frequently Asked Questions
Questions not answered here or on other pages can be directed to our contact page.
How does the submission or review process work?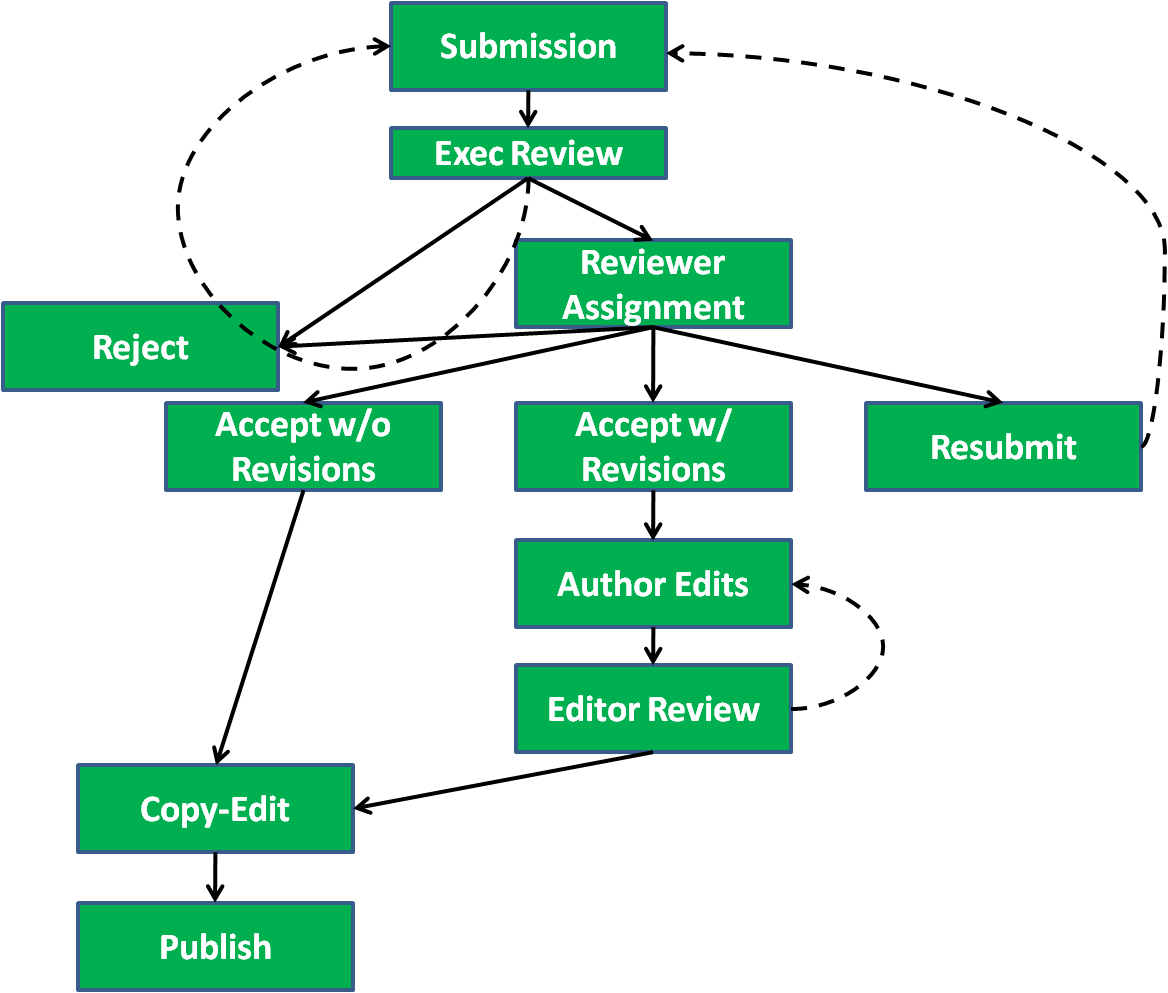 Both executive editors will read all submissions and determine whether the submission fits with the goals and readership of MSRJ:

In cases of disagreement between the two executive editors a senior editor will serve as a tie-breaker.
Authors will be notified of the submission status as soon as an initial decision is made.

Some initial rejections may be allowed to be resubmitted if initial quality of the manuscript is not suitable for review, but the topic still fits within the scope of  MSRJ.
If the editors agree that the submission should continue along in the review process, one executive editor will be in charge of the paper and will assign it to a senior editor.
The senior editor is in charge of assigning a junior editor to oversee the student review process. In addition the senior editor finds an appropriate faculty expert to act as a reviewer.
Three trained student reviewers will review the submission independently and send comments to the junior editor.
The junior editor will compile all student and faculty reviewer comments and the senior editor will contact the authors with the majority decision regarding the manuscript status, and provide the authors with reviewer comments. The types of reviewer decisions are described here.
If necessary, the authors will then be expected to make necessary changes and submit the new document with a formatted response.
The senior editor will be in contact with the authors until the changes are deemed acceptable.
When all needed changes have been made, the submission will be sent to the copy editor.
The copy-edited and formatted format will be reviewed by the authors, junior editor, senior editor, executive editor, and faculty to ensure the manuscript is finalized before publishing.
Finally, the manuscript will be ready for publication in our next issue.
What is the timeline of submission to publication?

Top
This page elaborates on the timeline of the submission process. The review process should be read first.
A submission is received, and queued for executive editor review.
The executive editors take 1-2 days to decide if the manuscript is appropriate for the journal
 Once the senior editor, junior editor, and reviewers are assigned, it will take approximately 4-5 weeks to complete the first set of reviews
The faculty reviewer will be assigned and will expect approximately 2 weeks for a review to be completed
Shortly after all reviews are completed, a compilation of reviewer comments with a decision will be sent to the author.
Depending on the decision, the author will have a set amount of time to return the manuscript with any changes. This process is variable because multiple rounds of editing may need to take place.
Following this, the authors, junior editor, senior editor, executive editor, and faculty advisors assigned to the article will look for any errors or problems.
Finally the manuscript will be ready for publishing in the next available edition.
What are the outcomes of the review process?

Top
Once the reviewers have completed the reviewing process regarding the submitted manuscript, there are 4 possible outcomes described below:
Accept without Revisions
The manuscript is ready for publication in its original form and no revisions are required. Only superficial changes such as grammar, spelling, and formatting will be made.
Accept with Revisions
This is a fine manuscript that is nearly publishable, but some minor or major flaws require attention; the manuscript is provisionally accepted and will be published provided the authors make the revisions suggested by the reviewers. Authors are asked to explain if comments are not able to be met, or if the manuscript cannot be modified as suggested. Responses must be formatted according to our author response guide. To enable timely publication, the authors are generally given 2 weeks to complete the revisions.
Resubmit
This decision is neither an acceptance nor a decline. In order for your manuscript to be reconsidered in another round of review, the manuscript must be edited according to the suggestions made by the reviewers and faculty adviser. Three new reviewers will evaluate whether or not the resubmission is adequate. Authors are asked to explain if comments are not able to be met, or the manuscript cannot be modified as suggested. We ask that the revised manuscript be sent back with the changes, and a copy of author responses to each reviewer's comments be submitted as well, according to our author response guide. To enable timely publication, the authors are generally asked to complete the revisions in 3-4 weeks.
Reject
A decline status indicates the manuscript is not appropriate for the journal or does not meet the quality of MSRJ for publishing. No further revisions will be considered. Authors will still receive reviewer comments and suggestions for improving the manuscript for submission to a different journal.
What types of articles do you accept?

Top
Types of Articles Accepted Top (Follow links for more detailed descriptions of each type):
Who is eligible to submit an article?

Top
There are few criteria required to be eligible for submitting to MSRJ, described in the general guidelines, but briefly:
The submission has not been previously published, nor is it currently submitted to another journal for consideration, and the first author is a medical student enrolled in an accredited medical college. A copy of a letter of current enrollment or letter of good standing that is signed by appropriate faculty on school letterhead must be submitted, including year of anticipated graduation.
Can I get a physical copy of my article?

Top
Each issue of the journal is published online for public access because this is an open-access journal.
We do produce limited quantities of the journal in booklet format upon request. If you would like a copy, please let us know. Full color, or color cover-only copies are available.
When are issues published and when do I have to submit?

Top
The publishing timeline of the MSRJ is given in the table below. In order to be published in a specific issue of the journal, articles must be submitted by the given submission deadline for that issue. The editors work hard to ensure articles will make it into a specified issue. Revisions that are not returned in a timely fashion may create a delay, leading to article being published in the next issue. Articles that are asked to be resubmitted may not follow this timeline, but every effort will be made to publish as soon as possible.
| Issue | Submission Deadline | Publication Date |
| --- | --- | --- |
| Winter Issue | October 1st | December 31st |
| Spring Issue | February 15th | May 31st |
| Fall Issue | July 15th | September 30th |
How do you respond to reviewer comments?

Top
When you receive a review of your manuscript from the editors, you will be asked to make revisions and reply to their reviews.  As an author, you may be tempted to simply make a revision and return the manuscript as asked.  However, it is imperative that you write a short response to each of the requested review points you receive so that editors know how, where, and why you did (or did not) choose to make the revision.  Here is an example:
REVIEWER:
"Please include baseline statistics for your data regarding baseline prevalence of Staph. aureus in hospital workers when you discuss hospital-acquired MRSA risks in the second paragraph of your introduction."
UNACCEPTABLE RESPONSE:
"Okay."
ACCEPTABLE RESPONSE #1:
"We agree that MRSA prevalence figures should be included, and have inserted them in the sentence directly following the introduction of this topic.  We also integrated the prevalence into our discussion section to address how rates of colonization in the general population may affect our data(see page 8, lines 12-20).
ACCEPTABLE RESPONSE #2:
"We do not feel that including MRSA prevalence figures would be appropriate, as our research includes a population which differs greatly from those who have been studied in the literature for MRSA colonization.  As such, we instead have added this fact, that our "population has a higher colonization rate than the general population at baseline, and MRSA prevalence in the cited in the literature would not accurately reflect our control populations."
Remember, when the reviewers ask you to make a revision, it is up to you as to how to make the revision—it is after all your manuscript!  However, if you do not believe a revision is warranted, it is up to you to make a strong case as to why, in addition to addressing the point in your manuscript.  If the reviewers had a question about something in your manuscript, there's a good chance your audience may have the same questions.
The goal of the revision process is again to make your manuscript the strongest possible reflection of the hard work and dedication you achieved in conducting your research, and offer your readers the most clear, concise, and thorough presentation possible.  The article that will be published will be a permanent testament to the work you performed, and may very well introduce a new scientific concept or thought to the world.  Though it may seem tedious, creating the strongest possible manuscript prior to publication will pay dividends in the future.
In closing, here is a brief list of "Do's and Do Not's" when replying to reviewer feedback:
DO
Respond to each bulleted review response under a separate heading.  This way, the editorial team will know that you saw each point they wanted to address, and know your thought process behind any changes you made.
Be an advocate for your own work.  If you strongly believe that a revision you have been asked to make is not warranted, please clearly explain why, and consider offering an alternative way of stating the point in your manuscript so that the reasoning behind not making the revision is more clearly elicited.  This will likely satisfy the reviewer and your intended future audience, who may have the same concern.  If the requested revision is imperative to getting your manuscript published, feel free to contact the editors, who should be willing to discuss the requested revision and reach a compromise.
If a revision seems unclear, or does not appear to make sense, ask for clarification from the editors.  This will pay off in the long run, in that you will be able to make more accurate revisions on the first round and potentially avoid subsequent rounds of revisions.
DO NOT
DO NOT simply reply, "All changes made as requested," because you should discuss each revision individually. Again, the editors want to know that you have seen, acknowledged, and agree with (or disagree with) the revisions requested.  We want to know how you made the changes, or why you do not believe the change was warranted.  Bottom line—communication is key!
DO NOT simply reply with a one word answer to a requested revision.  This is only appropriate if the reviewer asks for very succinct change (e.g., "Please introduce TMP-SMX the first time as Trimethoprim-Sulfamethoxazole." or "Please add a comma between the two clauses in line 87").
DO NOT take requested revisions as an indication that your work is bad!  To the contrary, when reviewers assess your manuscript, they already believe that you have produced something that could be publishable, and want to assist you in creating the strongest work possible.  We are here to help, and will work with you every step of the way to produce a publishable journal article of which you can be proud, and from which the scientific community can benefit for years to come!
Are there any helpful guides or information on effective writing?
Student Biomedical Journal – Writing a Medical Case Report
American College of Physicians – Writing a Clinical Vignette (Case Report) Abstract
University of Missouri – Writing & Citing: Paper Assistance
University of Virginia Health System – Writing for Research Publications
LWW Journals – Handbook for Academic Medicine Handbook Workshop-pdf
AT Still University – How to Write a Review Article-pdf
AT Still University – How to Write Research and Case Study-pdf
Journal of Rehabilitation Medicine – Guidelines for Writing Review Articles
Studet BMJ – How to Make a Scientific Poster
How can I become a reviewer?

Top
Students enrolled in an accredited medical college (verified by letter from dean's department) may apply to become a reviewer for the journal.
The prospective reviewers will complete a concise training, including lectures, handouts on the process and background, and a mock review that will be graded by our editors.
If you would like to become a reviewer, please visit our reviewer training page.
What is your journal's ISSN number?
Top
The Medical Student Research Journal is catalogued with an ISSN: 2159-3647
How do you cite an article from the Medical Student Research Journal?
Kabadi CJ, Smith III CR, Gomez F. Potential Pathogen Transmission on Medical Student Anatomy Laboratory Clothing. Medical Student Research Journal. 2013;2(Spring):30-35.
Kabadi CJ, Smith III CR, Gomez F. Potential Pathogen Transmission on Medical Student Anatomy Laboratory Clothing [Abstract]. Medical Student Research Journal. 2013;2(Spring):30-35.
How do you subscribe to issues from MSRJ?
Top
Contact us here and in the subject line include "Please add me to the subscription list". Please make sure your email address is included. We'll send you updates about MSRJ its issues!
This page was last updated on: 2-17-14 KCP