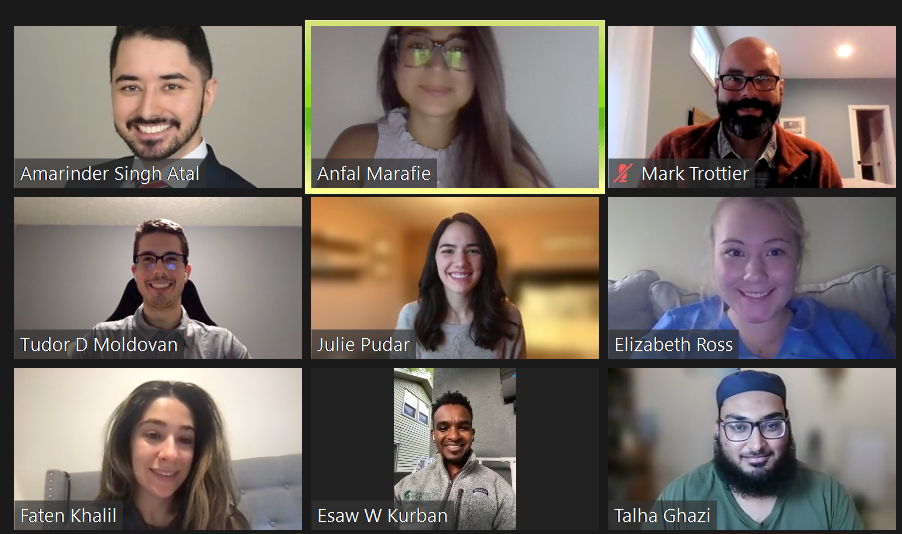 Executive Editor in Chief:
Anfal Marafie is a fourth-year medical student at MSU, CHM. She grew up in Kuwait/Sterling, VA and received her B.S. in Dietetics/Nutrition, Fitness, and Health from Purdue University and her M.S. in Applied Psychology from ASU in Texas. She has done most of her research in the field of mental health; previously on the stress of T1DM in adolescents, the effects of anxiety on pain perception, and currently on the differences in mood on the vaginal and gut microbiome in pregnant women and assessing the barriers to seeking out psychotherapy in a depressed population. She is currently interested in pediatrics as a career. She enjoys cooking, traveling, learning languages, rock climbing, and playing table tennis.
M3 Executive Editor:
Julie Pudar is a third year medical student at MSU-CHM. She grew up in Farmington Hills, Michigan and received B.S.E. degrees in Computer Science and Biomedical Engineering from the University of Michigan in 2018. Her research interests include sex differences in acute stroke. Outside of medical school, she enjoys teaching programming to kids, coaching marathon runners, and playing with her Australian Shepherd-mix.
M4 Executive Editor:
Tudor Moldovan is a current 4th year medical student at MSU CHM. He received a B.S. in biomedical sciences and an M.S. in biological science from Oakland University, MI. In the past he served as a teaching assistant for anatomy/physiology and scientific inquiry labs. He also completed and presented his master's thesis on sex differences in serotonin receptors in diabetic rats. Currently he is conducting research on urological surgery quality improvement collaboratives with his mentor at Spectrum Health. Looking forward, Tudor hopes to practice internal medicine. His hobbies include mountain biking, computers and technology, and DIY home improvement.
SE Coordinator:
Talha Ghazi
JE Coordinator:
Esaw Kurban is an Eritrean American 4th year medical student at Michigan State University College interested in pursuing a future career in neurology. He attended Western Michigan University in Kalamazoo, MI and received B.S. and M.S. degrees in biological sciences. During these times, Esaw pursued various research-related endeavors leading to various publications and awards, most notably a project published in the Journal of Experimental and Clinical Cancer Research detailing the use of an oncolytic virus to regress human colorectal cancer grafts in mice. Outside of medicine, Esaw enjoys spending time with his wife and four kids. Their favorite activities include hiking, camping, and other outdoor activities at large family gatherings. During his free time, Esaw enjoys being involved in his community, most notably volunteering at the local Refugee Education and Cultural Center. He has been the lead the COVID-19 response which involved more accessibility to virtual learning and health
Secretary:
Amarinder Atal
Elective leaders:
Ola Altahan
Faten Khalil
Elizabeth Ross is a 2nd year medical student at MSU CHM. She grew up in a small town called Hemlock, MI. Both of her parents went to MSU for their undergraduate education, so going to MSU for undergrad was her goal since she was little. She graduated from MSU in 2020 with a BS in Biomedical Laboratory Science and a concentration in Immunology. During her time there, she served as a learning assistant for Mechanisms of Disease and conducted preclinical research on the effect of omega 3 fatty acids on lupus development and progression. She is currently continuing research in this field, investigating the effects of non-pharmacologic therapies (especially cognitive behavioral therapy) in childhood-onset lupus. She is undecided as to specialty, but she has enjoyed her OB/GYN and Pediatrics rotations immensely. Liz is a self-proclaimed foodie, and loves to cook, bake, and explore new restaurants. She also has 2 cats, Darcy and Stella, who she spends a lot of spare time with.