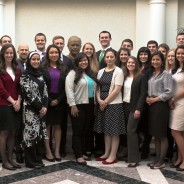 Introducing the new 2015 – 2016 editorial staff for the MSRJ! We are beyond excited for the upcoming academic year as we welcome 20+ new junior editors to the experienced MSRJ staff. The journal has been making incredible progress and we look forward to another productive year publishing impressive article submissions and supporting medical student research around the world! 2015-2016 Executive Editorial Board Executive Editors Kaitlyn Vitale, Executive Editor-in-Chief, is a fourth year medical student at Michigan State University's College...
read more
White Coat Sparty. Author:  Carter Anderson Author Affiliations: College of Human Medicine, Michigan State University, East Lansing, MI, USA Full Text Article PDF Corresponding author: Carter Anderson; carterbanderson[at]yahoo.com Key Words: N/A Abstract: Professional responsibility, compassion, honesty, respect for others, competence, and social responsibility are the characteristics that the Michigan State University College of Human Medicine strives to instill in every student. Published on date: January 1, 2015 Senior Editor: N/A Junior...
read more

Dr. Stephanie Watts, professor of Pharmacology and Toxicology at MSUCOM, spoke to MSRJ elective students about scientific communication and publishing.
read more

Dr. Henry Barry, professor in the Dept. of Family Medicine and Associate Chair for Academic Affairs at MSUCHM spoke to MSRJ elective students about peer reviewing and evidence-based medicine.
read more

Dr. Janet Osuch, breast surgeon and Assistant Dean of Preclinical Curriculum at MSUCHM, spoke with MSRJ elective students about experience publishing research and handling difficult feedback.
read more