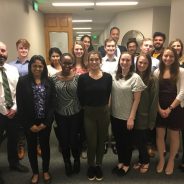 Thank you to the 2019-2020 MSRJ Staff who were able to make it to our General Board meeting!  These students came from  MSUCHM's clinical campuses, spread across the state of Michigan, to meet their new editorial staff peers.  We appreciate the hard work and positive attitude each student brings to MSRJ as we pursue our mission of publishing the scientific achievements of medical students.  Also, thank you to Dr. Mark Trottier (far left in picture) for his continued guidance and support as our MSU faculty...
read more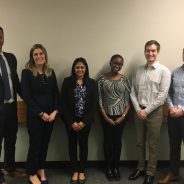 MSRJ is proud to announce its 2019-2020 Executive Board members!  Congratulations to Kathleen Louis-Gray, Eve Pourzan, Michael Dryden, Ninette Musili, Maria Rich, Antara Afrin, Christopher Dextras, and Jacob Purcell for being elected to their respective positions.  They are working hard to publish evidence-based and peer-reviewed research submitted by medical students across the globe.  We are excited to see how MSRJ will grow under their supervision! Meet our staff: Kathleen Louis-Gray – Executive Editor-In-Chief – is a 4th year medical student at MSU College of Human Medicine at the Traverse City Campus. She earned her Ph.D. in Neuroscience from Michigan State University, and studied thalamic synaptic plasticity in a rat model using electrophysiological techniques. She is currently in the Rural Community Health Program in Traverse City. There, she is involved in research regarding diet interventions and polysubstance use during pregnancy in a rural population. She has been an active member of MSRJ since 2016, helped to organize the MSRJ Elective, served as the M3 Executive Editor in the past. She is interested in neurology, and would like to strongly integrate clinical research with her future specialty. Eve Pourzan – M4 Executive Editor –  is a 3rd year medical student and is a prior 2017-2018 MSRJ Elective Organizer, and 2018-2019 Junior Editor Coordinator. She received her Bachelor's in Politics from UCSC, and worked for the Michigan Legislature before pursuing medicine. Eve has lab experience investigating cell signaling in estrogen-positive breast cancer and systemic sclerosis. She is interested in pursuing anesthesiology. Michael Dryden – M3 Executive Editor – is a 3rd year medical student at MSU College of Human Medicine heading to the Traverse City campus in the coming months. He grew up in Petoskey, Michigan before heading to the University of Michigan where he completed his B.S. in Neuroscience. He then attended Eastern Michigan University where he received his M.S. in Cell and Molecular Biology with a focus in Behavioral Neuroscience. While there he studied mouse olfactory behavior and olfactory bulb plasticity while developing new equipment and methodology. He is currently interested in both Emergency Medicine and Neurology, and when not studying or on the wards, you will most likely find him outdoors either riding his bikes or spending time on the water. Ninette Musili – Senior Editor Coordinator – Ninette is a rising 3rd year medical student at Michigan State University College of Human Medicine. She grew up in Ann Arbor, Michigan and earned her B.S. in Biomolecular Science from the University of Michigan. She is currently interested in maternal health and child disparities. Maria Rich – Junior Editor Coordinator – Maria is a 2nd year medical student at Michigan State University College of Human Medicine. She grew up in Grand Rapids, Michigan and received her B.A. in Biology from Kalamazoo College where she enjoyed studying abroad in Quito, Ecuador and playing varsity soccer. Prior to starting medical school, she worked as a Clinical Research Coordinator with the BeatCC Pediatric Oncology Research Team. At this point in her medical education, she is excited about pediatrics, genetics, and palliative care. Antara Afrin – Secretary – Antara is a second year medical student at the Michigan State University College of Human Medicine, Grand Rapids campus. She grew up in Detroit, Michigan and received her B.S. in Biomolecular Science from the University of...
read more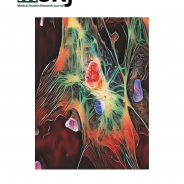 MSRJ Vol. 7 Spring 2019 The Spring 2019 issue is hot off the press! Click on the cover art to view and share the full issue! Thank you to our artist, authors, student and faculty reviewers, and our E-Board for all your hard work and dedication to advancing evidence-based medicine! Interested in a print copy? email us at @:...
read more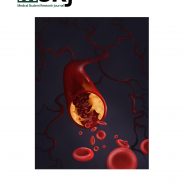 The Medical Student Research Journal is hosting its first cover art competition! This is a competition to have your art featured in the Fall 2019 edition of the Medical Student Research Journal. This is a great opportunity to showcase humanism in medicine and earn a CITATION that you can add to your curriculum vitae! Details: • Competition Dates?  June 1 to August 31, 2019 • Theme?  Medicine • Who is eligible?  All MSU graduate and undergraduate students, KCAD students. • How to compete? Please submit artwork in PDF or JPEG format by 11:59pm, August 31 2019. Please send submissions to: jacob.purcell@msrj.chm.msu.edu Check out the official flyer and last years cover art below: Fall 2018 publication...
read more